Why You Should Buy the New Google Pixel Fold
Google has finally entered the foldable phone market with the launch of the Pixel Fold. The Pixel Fold is a high-end device that offers a large, immersive display, powerful performance, and a long-lasting battery. It also comes with a number of exclusive features that make it stand out from other foldable phones.
Design and Display
The Pixel Fold has a sleek, modern design that is both stylish and durable. The phone is made from premium materials, including a Gorilla Glass Victus display and a metal frame. It's also water-resistant, making it ideal for use in wet environments.
It has a large, 7.6-inch AMOLED display with a 120Hz refresh rate. The display is sharp and vibrant, and it offers excellent viewing angles. It also has a 5.8-inch AMOLED display on the front of the phone. This display is perfect for checking notifications, making calls, and using apps when the phone is folded.
Performance
The Pixel Fold is powered by the Google Tensor G2 processor, which is one of the most powerful mobile processors available. The Tensor G2 processor provides the phone with the power it needs to handle even the most demanding tasks. It also has 12GB of RAM and 512GB of storage, which ensures that the phone can handle multiple apps and tasks at the same time.
Camera
The Pixel Fold has a triple-lens rear camera system that consists of a 50MP main sensor, a 12MP ultrawide sensor, and a 48MP telephoto sensor. The rear camera system takes stunning photos in a variety of conditions. It also has an 8MP front-facing camera for taking selfies and video calls.
Battery
The Pixel Fold has a large, 4,727mAh battery that provides all-day battery life. It also supports fast charging, so you can quickly charge the phone when you need to.
Software
The Pixel Fold runs on Android 13, which is the latest version of Google's mobile operating system. Android 13 is packed with new features and improvements, including a new design, privacy features, and performance enhancements.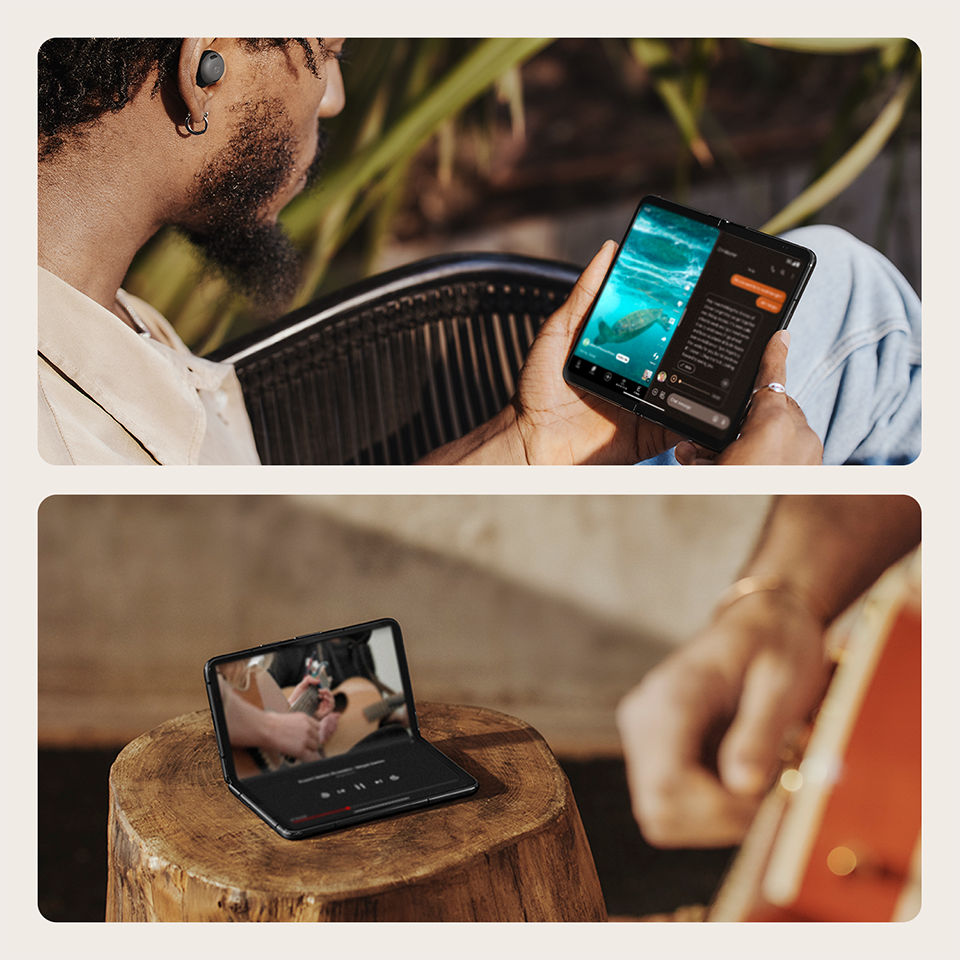 Exclusive Features
The Pixel Fold also comes with a number of exclusive features that make it stand out from other foldable phones on the market. These features include:
A new multitasking mode that allows you to use two apps at the same time on the same screen.
A new keyboard that automatically adjusts to the size of the screen.
A new camera app that takes advantage of the phone's large display.
The Pixel Fold is a great choice for Pixel users wanting to try the foldable format, or for anyone wanting to get into the Pixel series. Get yours at Russell Cellular today!
Get Up to $1000 off the new iPhone 15 Pro.
With any iPhone trade-in and Unlimited Ultimate.
Up to $1199.99 on device payment or at retail price required. New line required. Unlimited Ultimate plan required. Less $1000 trade-in/promo credit applied over 36 months; promo credit ends if eligibility requirements are no longer met. Promo credit may change based on other Unlimited plans. 0% APR. Trade-in conditions apply. Taxes and fees may apply.